We are an indoor recreation social club for ages 10+. Catering to groups of friends, families, leagues and parties of all sorts; corporate, private and charity events.
Full personal throwing lanes! You will never be paired with someone you don't know. Larger groups or groups over six will be able to throw next to each other when available.
We offer two different target experiences. Both are great options!
Other social games include:
Shuffleboard, foosball, tabletop tiki ring toss, and we also offer pull tabs.
Make your reservation online as it's never been easier. It is not required but highly recommended as slots fill fast and walk-in availability is not guaranteed. Fill your waiver out ahead of time for a quicker check-in by our prompt team. We highly recommend you arrive 15-30 minutes early to get checked in.
You will receive safety and technique training from one of our awesome Axe coaches. After your play begins, our axe coaches are available to you as much or as little as you like.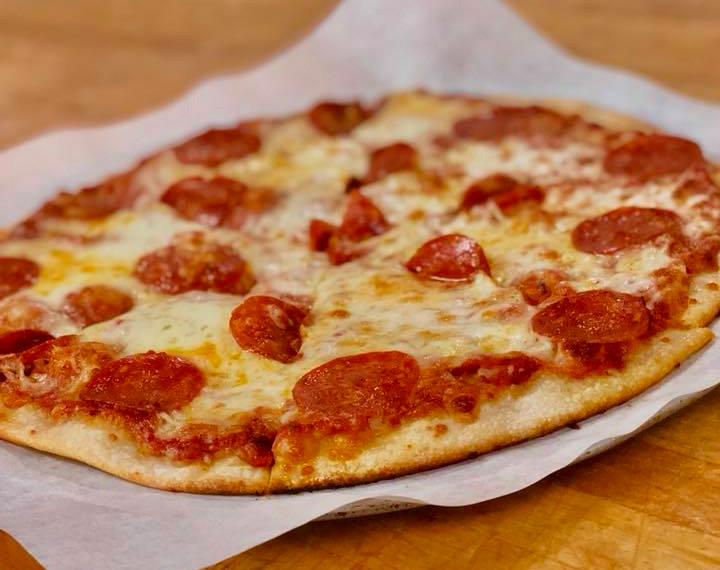 We have teamed up with Keith's Old River Pizza to tantalize your tastebuds with great local pizzas and flatbreads delivered to your table in record time. We will also be offering meat and cheese charcuterie boards, tabletop smores kits, and other Lumberjack Snaxe. The bar will offer a large assortment of domestic and craft beers, ciders, seltzers, and a wide array of different wines.
No outside beverages are allowed.
If out to give an Axe a whirl or just enjoy a beer and a bite with friends - be sure to stop in. We are Axecited to have you!
Frequently asked questions
When you make a reservation ahead of time with us, you will have an appointed Axe Coach. Our Axe Coaches have succeeded in certification by a licensed axe throwing wizard and will be attentive by your side offering guidance, knowledge, house rules, and also any food or drinks you'd like.
We pride ourselves on our safety practices as your safety is our number one priority. Our facility is custom built with safety in mind as each individual throwing lane is enclosed in floor-to-ceiling fencing and only one axe is allowed per lane. Before your reservation starts, your Axe Coach will go over safety procedures during a brief training session as well. Keep in mind that no sport is completely free from risk but axe throwing in our venue is closely monitored to keep everyone safe, even from yourself!
We understand that things do come up and we ask that cancellations are made 48 hours in advance in order to get a full refund. If you cancel in less than 48 hours, you may be given a refund in the form of a gift card or you may make a new reservation.
2-5 people can throw comfortably in a lane, however, we will allow up to 6 people if necessary.
Aside from Axe Throwing, we offer free games! Games like Foosball, Darts, and Shuffleboard require a few quarters, however.
Closed-toed shoes are REQUIRED. Besides that, wear comfortable clothing as you will likely raise your arms over your head to throw your axe.
Reservations are highly recommended to guarantee a lane for your group. Reservations can easily be secured here. However, walk-ins are always welcome during our standard open hours as long as there is a throwing lane available. Don't forget that special events and private parties are available during our open hours as well and we'll work with you to the best of our abilities on your timing needs. Contact us for more information!
We allow younger throwers 10 and up to throw. Due to safety concerns we do not allow young, mobile children in the venue. If you are, or hoping to reserve the Lumberjack Lounge for a private party and have a unique situation, please contact us for more information. Babies and immobile children are allowed as long as they are under the care of an adult at all times.
We offer canned cocktails, a wide variety of beer and wine, water, and other non-alcoholic options such as soda, juices, energy drinks, and sports drinks. Safety is our main priority, so if we decide that you're too intoxicated to throw safely, you will not be allowed to throw, with no exceptions.
We also offer in-house local favorite Keith's pizza with various topping combinations, charcuterie boards, bavarian pretzels, and various Lumberjack Snaxe! We do allow you to bring your own food, however, it must be from a licensed restaurant or grocery store. We do not offer plates, napkins, or utensils for outside food but we have trash cans and recycling bins for when you're done.
We encourage you to capture the fun! Be sure to tag @hatchethouseofbemidji as you share with your friends and family online! We do ask that you be mindful of others as they may not want to be included and keep the focus on your group if possible.